How to protect and care for your natural stone
Natural stone is a product which can look better with age and wear. It is a suitable material for both internal and external projects due to its durable nature. Although, it is important to remember that it is still possible to ruin the stone's aesthetic by accident. Spillage and aging can cause the stone to discolour in a way which is irreparable. These accidents can cause permanent damage. Stone is costly to replace, so it is always best to take preventive measures. This is why we have produced our own range of stone care products. Our range is scientifically formulated to treat all natural stone without damaging it. Our products seal, clean and enhance stone. Achieving high performance results with our Eco Stone Shield products is our guarantee.  
As natural stone paving is a porous material, we recommend using our Stone Sealant. Our sealant will prevent accidental spills staining the stone. Also, it will prevent the staining from the build-up of environmental dirt and grime. It does this by giving the surface a layer of impermeable protection. This makes the stone become moisture repellent.  This maintenance allows the aesthetic of the stone to remain for much longer. It also does not create a film or visible layer. It remains breathable for moisture to still be able to escape from the stone if any has remained. We have made all our Eco Stone Shield products non-hazardous to meet safety standards. Our sealant will hold the beauty of stone for years to come.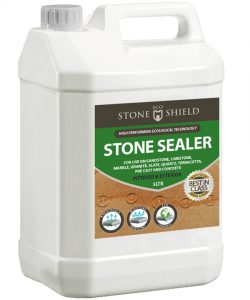 A common question which we receive is how to clean natural stone? Remember that stone is a natural product which requires maintenance. This is why we have formulated our stone cleaner. This cleaner is perfect for removing heavy spills of oils, fats, dirt and grime. It does this by breaking down the substance without affecting the stone. This means washing away the dirt is easy and  the stone looks as good as new. It is a solvent free cleaner meaning it is safe to use around children, pets, plants and aquatic life. Above all it is fast acting and reliable. 
As with all natural products, the colour can fade over time to make it look tired and dull. This happens through weathering but restoration to its former glory is possible. Our colour enhancer gives stone a new lease of life by bringing the natural colours out. It does this at the same time as sealing the stone to prevent further damage and staining. For stone interiors, this works great as protection against spillages and tough stains. 
During the laying of stone, layers of salt and concrete can build up. This can be difficult to remove without the right product. This is why we have developed our Concrete & Salt remover. This product breaks down the residue salt and concrete allowing for removal. As with all our products, application does not alter the aesthetic of the natural stone. Due to the porosity of unsealed stone some liquids can penetrate deep into the substrate. For such cases, Eco Stone Shield Concrete and Salt Remover is an ideal solution. It removes the most stubborn concrete stains on unsealed stone.
When exposed to the elements, it can be easy for moss and algae to build up on stone. Our product breaks down organic and microbiological contaminants. It does this on a molecular level. Moisture finds its way into the stone which allows for organic life to grow over time. This alters the appearance of the stone which can cause it to look dirty and dull. Our Moss & Algae remover makes the stone look pristine and brand new.
Application of all our Eco Stone Shield products need a spray, roller or brush. They do not alter the colour or appearance of the stone.
Why not revitalise your yorkstone patio or refresh your sandstone fireplace today. With simple application, it could not be easier to protect and enhance your natural stone. Our products work on yorkstone, sandstone, limestone, granite or slate. Our Eco Stone Shield products can keep the beauty and timelessness of your stone for a lifetime.